England spoiled India-Pakistan T20 World Cup final party: Buttler
England beat the Men in Blue by 10 wickets to qualify for the grand finale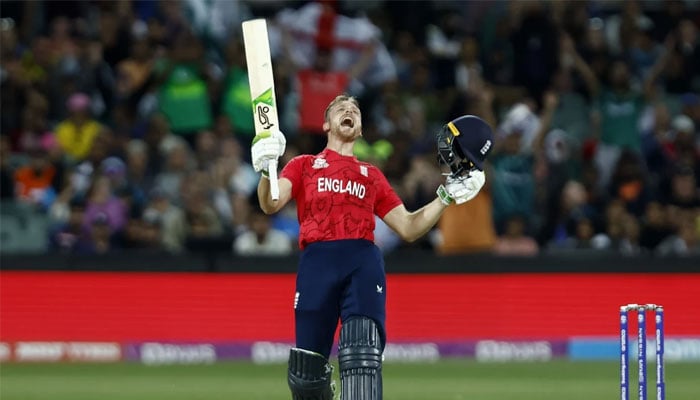 ADELAIDE: England skipper Jos Buttler fulfilled his vow to prevent a Pakistan-India final in the T20 World Cup 2022 as he led his side to a massive victory over the Men in Blue at the Adelaide Oval on Thursday.
England sailed into the final of the mega event after crushing India by 10 wickets, thanks to a ruthless batting display by Buttler and his opening partner Alex Hales. The two batters scored 80 and 86 runs, respectively.
On Wednesday, Pakistan defeated New Zealand by seven wickets after a convincing performance from opening duo Babar Azam and Mohammad Rizwan and the bowling line-up.
The England skipper had promised to make sure that a final between the arch-rivals doesn't happen.
During the press conference following the game, Buttler was asked by a reporter regarding the remarks he made before the semifinal. He acknowledged that many fans desired a Pakistan-India final, but he insisted that his team was out to "spoil the party."
"Yeah, I think certainly a few people were wanting that final, of course, but certainly for us, we're desperate to get there. We wanted to — like I said, spoil that party, and I'm sure there's — having seen the first game of the tournament between India and Pakistan, there's a lot of people that would have loved to have seen another edition of that, but they'll have to wait for another time," the batter said.
Pakistan will square off with England in the grand finale of the T20 World Cup 2022 at the Melbourne Cricket Ground on Sunday, November 13.
Before the game, the wicket-keeper batter stated they don't want the idea of a Pakistan-India to become a reality.
"Well, we certainly don't want to see an India-Pakistan final, so we'll be trying all we can do to make sure that doesn't happen," Buttler told reporters in a press conference.
"We're all really excited about the match. In my opinion, one of the best stadiums in the world against a brilliant Indian team, which I'm sure will be well supported tomorrow. It's going to be a great occasion, and these are the times that you want to be involved as a player," he added.