Morgan sets new World Record for Most Sixes Hit in an ODI Innings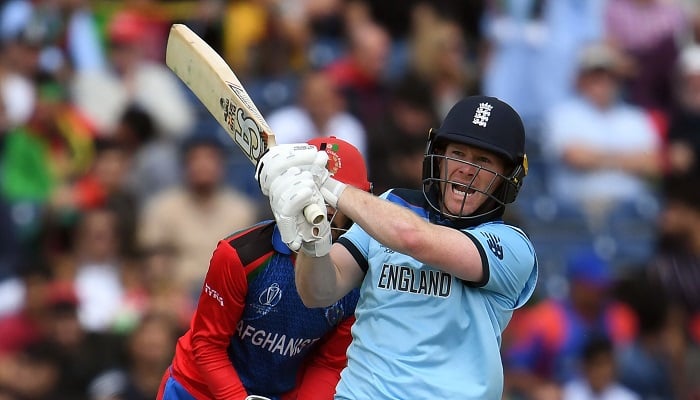 England captain Eoin Morgan on Tuesday set the new world record for most sixes hit in a single ODI innings by smashing 17 big ones against Afghanistan in their World Cup 2019 encounter in Manchester.
The hard-hitting English skipper showed no mercy to the winless Afghans, pounding one six after another on his way to a 71-ball 148 scored at a strike rate of a staggering 208.45.
Morgan, who had arrived to bat in the 30th over, achieved the feat in the 47th over, and would have hit a few more, had he not been holed out at long-off the very next ball.
His new record of 17 is one more than the 16 each hit by India's Rohit Sharma, South Africa's AB de Villiers and West Indies' Chris Gayle.
Morgan's record was just one of several set in the game, some enviable but others not so much, including Rashid Khan's.
The star spinner was plundered for 110 runs in his 9 overs, becoming the holder of the worst economy rate in an ODI match. That coupled with him being hit for the most number of sixes in an ODI made it a day-time nightmare for the youngster.
Had he conceded just three more runs, he would have also equalled the ODI record for most runs conceded in a single match, currently held by Australia's Mick Lewis.