Number of Mobile Subscribers Worldwide Hits 5 Billion: GSMA Intelligence
Two-Thirds of World's Population Now Connected, According to GSMA Intelligence
Smartphones users across the world have reached to an amazing figure of around 5 billion; as per the latest report of GSMA Intelligence. Number of Mobile Subscribers Worldwide Hits 5 Billion: GSMA Intelligence. These 5 billion are the unique subscribers based on real time data of GSMA Intelligence.
Number of Mobile Subscribers Worldwide Hits 5 Billion: GSMA Intelligence
This 5 billion achievement means two-thirds of the world population from across the globe and this figure has been reached in 4 years.
Unique Mobile Subscribers Region Wise, Q2 2017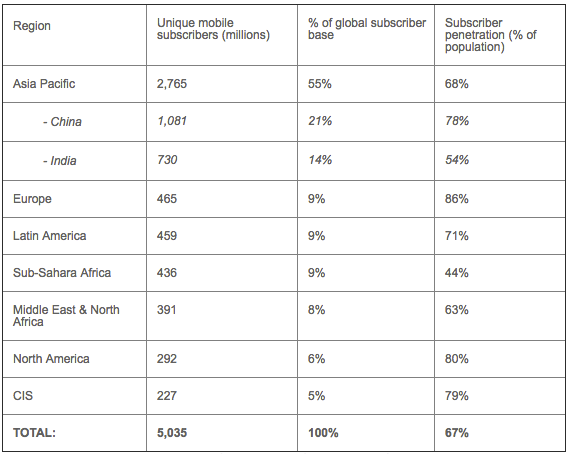 Source: GSMA Intelligence
Mats Granryd, Director General of the GSMA said that:
"Reaching the 5 billion subscriber milestone is a tremendous achievement for an industry that is only a few decades old, and reflects the many billions of dollars that mobile operators have invested in networks, services and spectrum over many years."
He also commented that:
"Today mobile is a truly global platform, delivering connectivity and, perhaps more importantly, social and economic opportunities to citizens in all corners of the world. This massive reach allows the mobile industry to be a key player in delivering global initiatives such as the UN's Sustainable Development Goals."
It is forecast that number of unique mobile subscribers across the globe will further increase to 5.7 bn by end of the decade. Which will make the almost three-quarters of the world's population will be connected via smartphones.
"Subscriber growth opportunities over the coming years will be focused on connecting mainly rural, low-income populations; operators are developing a range of sustainable solutions to deliver affordable connectivity to under-served communities."
Added Granryd.